The initiative
Patty's Child Clinics Pakistan offers mothers-to-be comprehensive medical care from the first days of their pregnancies through to delivery, examination and vaccination of the new born and all follow-up treatment.
The endeavour to gradually create a nation-wide network of clinics is joint effort of Patty's Child Clinics Pakistan, Lions Club International Foundation and the Bavarian Honorary Consulate of Pakistan.
Patty's Child Clinics Pakistan is particularly concerned about relieving expecting Pakistani women of worries, concerns and insecurity and guaranteeing their new-born children optimal medical care in the first year of their lives. Pregnancy, a central element in women's lives, should in Pakistan be free of complications and imbued with confidence and joy.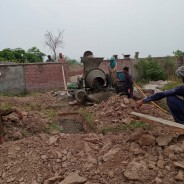 30th June 2020: We are delighted to inform that the construction work of the 3rd Patty's Child Clinic has started. Please find below a short video and some of the latest photos of the clinic in construction. We will keep sharing photos of all developments. Keep following...
read more